Today is a very exciting day! I have now been given permission to share the cover of the next book, The Shadowed Throne, which is of course the sequel to Shadow's Heir. This includes the back cover, so now you can read the blurb!
Personally, I like this cover. The man shown on it is Kullervo, who is mentioned in the blurb and also features in one of the prequel stories on the short stories page (The Creature, if you want to read it). I'm very pleased with the model they chose, since they found someone who actually looks genuinely gawky the way Kullervo does.
And yes, that is a wing poking out from under his cape.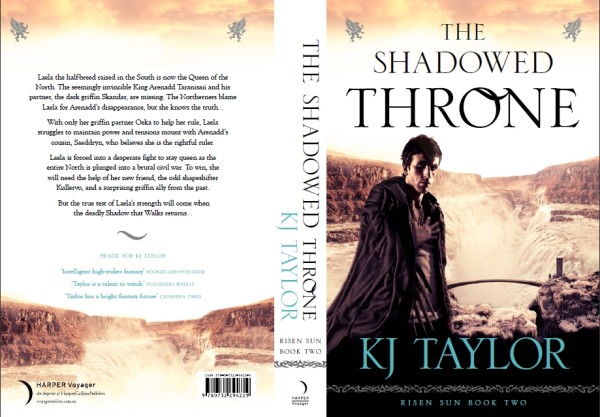 If you're having trouble reading the blurb, it says:
Laela the half-breed raised in the South is now the Queen of the North. The seemingly invincible Arenadd Taranisaii and his partner, the dark griffin Skandar, are missing. The Northerners blame Laela for Arenadd's disappearance, but she knows the truth…
With only her griffin partner Oeka to help her rule, Laela struggles to maintain power and tensions mount with Arenadd's cousin, Saeddryn, who believes she is the rightful ruler.
Laela is forced into a desperate fight to stay Queen as the entire North is plunged into a brutal civil war. To win, she will need the help of a new friend, the odd shapeshifter Kullervo, and a surprising griffin ally from the past.
But the true test of Laela's strength will come when the deadly Shadow That Walks returns…