I love fanart, so here's some I decided to showcase.
The Dark Griffin Audio Trailer
A truly brilliant creation, submitted to a fan creation contest. The maker is currently going on to make trailers for the rest of the first trilogy.
The Griffin's Flight Audio Trailer
A sequel to the first trailer, with the original cast reprising their roles to astonishing effect.
The Griffin's War Audio Trailer
The third trailer, made in a different style to the first two but equally impressive.
Hakree, the griffin with a Facebook page
This one was created as an entry for my Design-a-Griffin contest, and took first prize!
An Essay on the works of K.J.Taylor, by Toom Lõhmus
Even darkness has a heart
Katie J. Taylor once said 'Even darkness has a heart'. This is the recurring theme in all of her books, unlike many other authors, who only write dark as evil.
Katie J. Taylor is a successful Australian author, who has so far published eight books, with more to come. She was born in 1986, and as she says, plans to stay alive for as long as possible.
Katie J. Taylor published her first work, 'The Land of Bad Fantasy' when she was just 18, and went on to publish 'The Dark Griffin' five years later. In the meantime she practiced her writing skills by writing several fanfictions under the pen name Opifex. In the fanfiction community Opifex was made famous by her fanfiction 'From White to Black'. It is a part of her series 'The Storm Dragons' and can be classified as a deconstruction fiction. She takes everything from 'Eragon' and 'Eldest' and turns it upside down. Opifex summarized 'From White to Black' as 'The true history of Galbatorix. Where did he come from? What shaped him into the man he would become? Did he ever truly deserve to be the most hated man in Alagaesia?'. Katie J. Taylor answers these questions and many more.
Katie J. Taylor has used many of her original characters from her fanfictions in her published works, for example the characters of Arren, Ravana and Kullervo. There are also recurring themes, for example racism. Racism in her world is not based on skin colour, but on faith, abilities and place of abode. Her books are very different from most modern fantasy. There are people fighting, not archetypes and dark does not mean evil. Also, the hero is not some obscure, little figure that rises to hero status and is expected to save the world. In the end, the reader can understand, why the hero did something, and sympathises with him.
Books by Katie J. Taylor are commonly suggested to people, who for some reason are disappointed in usual fantasy, and want to try something different. These books will definitely fulfill a reader's need for a wide range of emotions and action, and if someone likes to ponder the meaning of truths, good or evil and even racism they should definitely read these.
The Gallery
Kearney "Red" Redguard. (Commissioned artwork)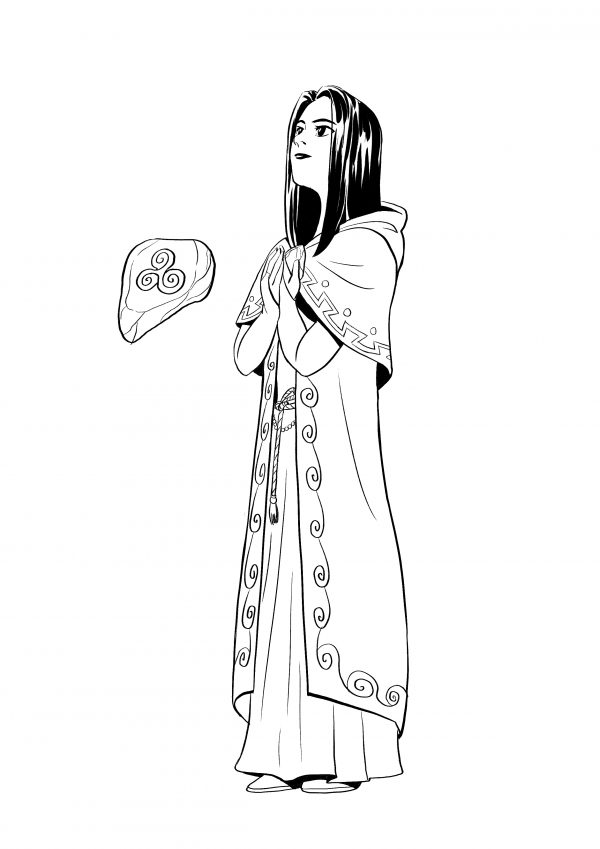 Teressa the Priestess (by the same artist)