Last week I got a happy email and phone call from my new editor Deonie, who had just received the "welcome to being my editor" gift I sent her. But before I mailed it off I took pictures, so here you go!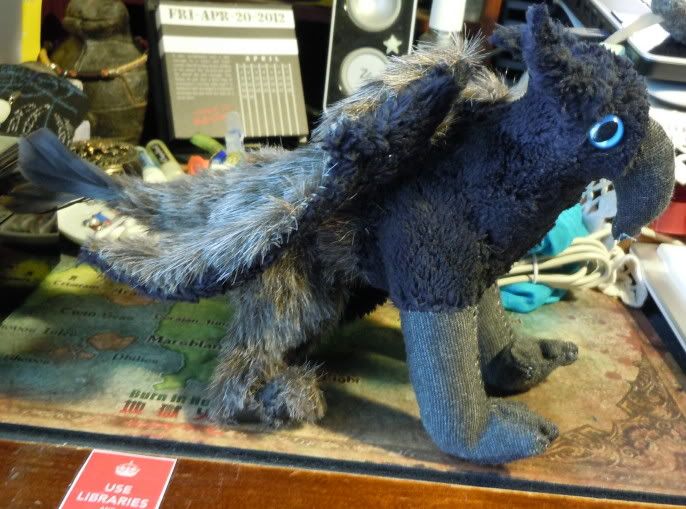 This is Kraego (sitting on my messy desk, if you're wondering). And believe it or not, he was actually designed by my friend and cover illustrator Allison L Jones, who picked out the gender, coat, and eye colours and actually led to the creation of him as a character since what she picked gave me an idea. Since she said he should be black, I realised he must be Skandar's son, and the blue eyes made me decide that his mother… well, you'll see.
Now, it's not much of a spoiler to say that by the time the events of the second trilogy roll around, Skandar has a lot of offspring. He's the dominant griffin, and female griffins find that very attractive indeed. Kraego, though, is different and a bit special, but you'll see for yourselves! Eventually.
Cute, ain't he? In cuddly form, anyway.
PS: Ah yes, I almost forgot, but I've been informed that The Shadow's Heir is going to the printer's this week. It won't be officially released in Australia until July, whereupon I shall put signed copies up on eBay. But the advance copies sent to me will go to our lucky prizewinners (and a few close friends).